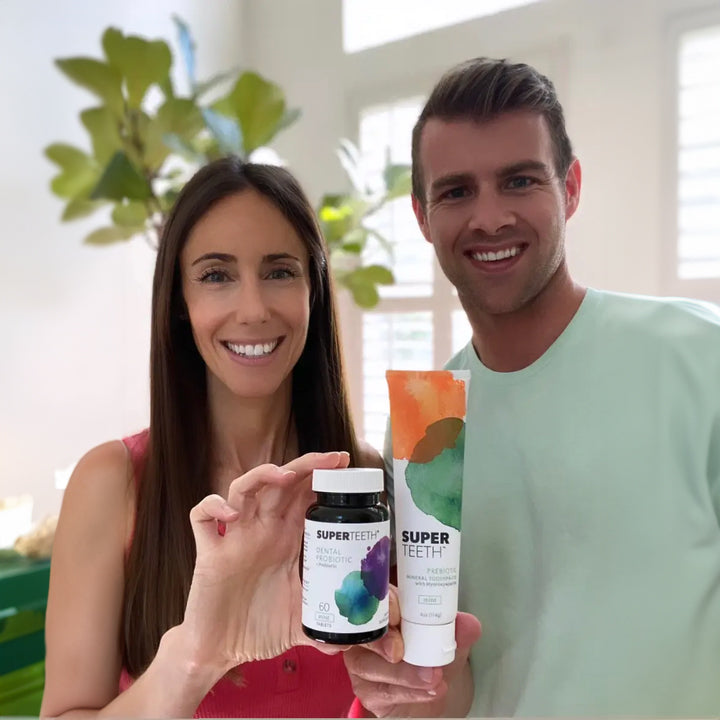 A Journey to Better Oral Health
I (Katherine) have always been cavity-prone, but when I became pregnant with my first daughter my oral health really went downhill. Even though I brushed and flossed every day, I came out of my first pregnancy with cavities, gingivitis and pure exhaustion and disappointment from my failed attempts at having good oral health. Then, after my third pregnancy, I experienced digestive issues but was able to heal my gut with probiotics.
The Discovery of Dental Probiotics
Cameron and I became intrigued with the science behind beneficial bacteria and wondered if we could heal my mouth the same way I had healed my gut. After hours of research, and lots of discussions with his father (a dentist of almost 40 years) we formulated a dental probiotic that contained beneficial bacteria strains specific to oral health. Ever since, I've been cavity-free and its my mission to share the knowledge I have gained our friends and customers. 
The Science Behind SuperTeeth
SuperTeeth Dental Probiotic contains three powerful bacteria strains that have been clinically studied to control the growth of oral microorganisms that are responsible for cavities, gum disease and bad breath. Our probiotics work in a variety of ways to create a balanced oral microbiome and a healthy mouth.
Meet Our Dentist
Dr. Ronald Dahl, DDS is a general dentist who has been practicing dentistry for over 35 years. Throughout his career, Dr. Dahl has been an active member of the American Dental Association, the Washington State Dental Association, the American College of Dentists, and several hands-on dental study clubs.
Dr. Dahl is a problem solver who doesn't just fix teeth. He strives to promote oral health through a holistic, whole body health approach to dentistry. He educates patients on how to adjust both their oral hygiene and lifestyle habits to help them achieve optimal health.
Dr. Dahl's knowledge and understanding of the oral microbiome and its intricate connection to the body is what makes him such a valuable part of the SuperTeeth team, not to mention he's also the best grandpa ever!